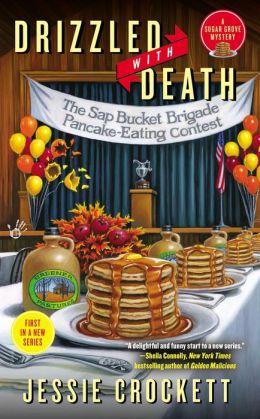 * first in a new series *
Dani's family supplies the syrup for the annual Sap Bucket Brigade Pancake Eating Contest. This year it looks like her grandfather will win yet again when the only other competitor still eating galls face first into her plate - dead.

Alansa wasn't well liked after taking control over land that had plenty of common uses from the town. Instead of honoring those uses, she manipulated her way into the town and took away privileges as she saw fit.

Dani doesn't need the hassle of murder questioning her products. It's hard enough getting her family on board and now she has to weather this storm too. What she really needs to do is solve the murder to keep her business alive and thriving.
My Thoughts: I enjoyed this new series set in New Hampshire. I really enjoyed the side plot of the animals loose around town and how Dani had a knack for helping recapture them. It added humor to the story. I really liked learning more about the sugaring process. Plus it made me crave pancakes. I liked the family dynamics - the squabbling and the respect for their grandmother. I enjoyed Dani and her feisty spirit. A fun start to a new series.
Cover Thoughts: Great
Source: Purchased