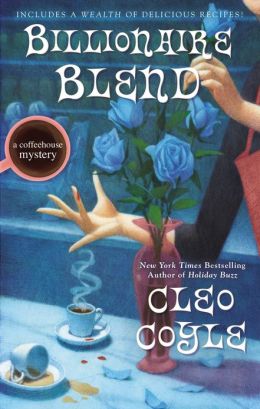 * Coffeehouse Mystery Series Book 13 *
There's a new customer in the blend, who has taken to stumping the baristas. Finally Clare takes him on. After he acknowledges that he couldn't stump her and just before he makes her an offer, there's a load explosion in the streets - a car bomb.

Eric's injured in the blast, which was meant to kill him. His bodyguard was killed. Clare's injured as well, but she saved Eric's life. Later she learns that he's a tech whiz and billionaire. As a thank you, he buys her a Slayer, the best espresso machine. He has a business proposition for her, but she's more interested in who's trying to kill him.

The deeper she gets into this mystery, the stranger everything seems.
My Thoughts: I really enjoy this series. I love the coffeehouse crew. I liked the idea of Clare creating a super blend of coffee for the uber rich and her friendship with Eric. While Eric was entertaining , he takes her pursuit too far. I like the romantic issues between Clare and Mike as well as those between Joy and Franco. I really liked seeing Joy in her element. I'm excited to see where her career goes. A fantastic addition to this charming series.
Cover Thoughts: Love it
Source: My Library