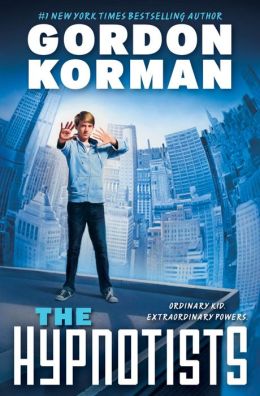 * First book in a new series *
To Tommy, Jax has always seemed lucky. Neither are surprised to learn that he has natural hypnotistism powers.

At a school event, Jax shows his true skills, which lands him in special program where he spends the first week answers questions. Annoyed, he's finally had enough. He demands to meet Dr. Marko and becomes convinced he could use his powers for good.

He learns about famous mind-benders influencing history from Lewis and Clark to the pitcher who allowed Babe Ruth to hit his most famous home run during the world series to Sir Edmund Hillary who climbed Mount Everest. The influences from history reaches far from the most remarkable achievements to the most hideous moments. The more Jax learns, the more he wonders who can he trust.
My Thoughts: A classic Korman novel filled with humor, action, and danger. I love the idea of the historical conspiracies, but when you bring the problem to modern day, it become horrific. I liked watching Jax figure out his powers and question authority. A fun book that made me wonder what could possibly happen next.
Cover Thoughts: Funky
Source: ARC from BEA 2013