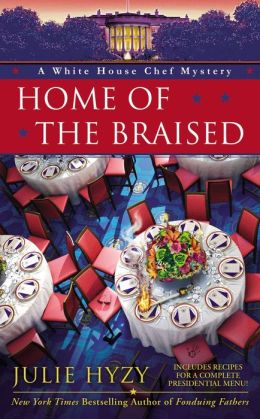 *
White House Chef Mystery Series #7 *
Ollie and her staff are busy pulling together a last minute state dinner for the beginning of peace talks with the country of

Durasi. They're trying to make it work - even with the unhelpness of Virgil. It's an important dinner and Ollie won't do anything put the dinner in jeopardy.





Unforgettably

, she has some personal troubles. While trying to visit a friend of Gav's, they come across a gruesome murder scene. The scene's being take care of by the Secret Service, but there's something not right about it all.





As the days lead up to the dinner, it's clear that people are unhappy at the prospect of it. A group of

U.S.-hired mercenaries

are about to be recalled and redistributed to other regions or terminated. The Secretary of Defense is found murdered in his home.





As rumors swirl and the people are told half-truths, it's hard to know who to trust anymore...
My Thoughts: I Love this series and Home of the Braised is a great addition to the series - I love the politics and the inside look at the White House. I love the planning of State dinners and seeing how the kitchen staff comes together to create meals. I loved the personal story between Gav and Ollie - especially how it turned out. I love Ollie for her intelligence, her fast thinking, her ability to help out and keep calm in a crisis, and her loyalty. The stakes are high and the plot twists make this book hard to put down.
Cover Thoughts: Love it
Source: My Library