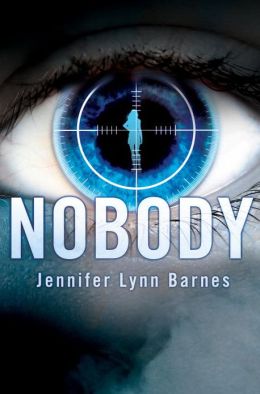 * Comes out Tomorrow*
Nix is nothing. No one will ever love him. No one can see him, unless he wants them to, and those people will forget him within seconds. He is Nobody.

Due to his unique abilities, (he can fade his body to walk through walls) he's sent to kill people - bad people. He's awfully good at it, until he meets his new target Claire.

Claire isn't a Null. She's just a girl and she can see Nix. For the first time, Nix hesitates. He's not sure why the Society wants her dead. When he realizes that she can see him, he knows she's NOT a Null. Nix starts questioning the Society and why they gave him orders to kill her. He knows that neither of them are safe, so he kidnaps her until he can figure it all out.
My Thoughts: I adore Jennifer Lynn Barnes's book. Her newest book is fabulous. It's a perfect blend of science fiction, thriller, and romance. It's heartbreaking at times and at other times, very funny. Nix and Claire have a mutual attraction, but they each need to work out their own fears about each other. I love Claire's strength and her ability to see the good in the world which has ignored her for 16 years. I find Nix troubled, but sweet. I loved the scene where Claire takes him to the library and the scene where he builds her a bookcase. Overall, a great book about two teens discovering their abilities, along with their strengths and weaknesses in a world that doesn't appreciate them.
Cover Thoughts: LOVE IT!
Source:
Media Masters Publicity
If you think this one sounds good, come back tomorrow for a giveaway!!!