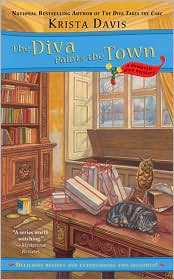 Sophie's in the middle of organizing decorating show when her elderly next door neighbor dies. He's a recluse that no one seems to know much about except that he was once an amazing teacher and his home is a decorator's dream. When Natasha, Sophie's frenemy, becomes involved, she steamrolls her way into turning the mansion into a show home. While several decorators use their talents in various rooms, tempers flare over both styles and colors used. Plus a mysterious will from the mansion's owner sets tongues wagging. Did the professor cover up a huge crime?
When Sophie's neighbor confesses to killing an old flame, Sophie calls in the police, only to discover the body has simply disappeared. They think she's crazy but Sophie knows what she saw. Now Nina's getting phone calls from the deceased's phone and she's scared someone saw her. She's not about to become the next victim so she asks Sophie to help, but how exactly does one investigate without a body?
My Reading Habits: Confession - I ADORE adult cozy mysteries. I read several a month, but rarely do I post about them. Clearly, I'm changing and will be posting more of these reviews even thought they're adult. I do think that mysteries can absolutely cross over with teen appeal, but I simply love reading them. For me a good mystery has a romantic tension plus have an interesting job (as that usually gets the mystery going). Plus, I hate it when I know the killer - which can sometimes happen when you read a lot of them, but it does spoil the mystery for me. That doesn't happen too often for me.
My Thoughts: This book is third in a series of adult cozy mysteries. I enjoy this series and this book is no different. It's cute, sassy, funny, and I never see what's coming next. I admit to loving Natasha on paper because she's so crazy and her relationship with Sophie makes the book.
Cover Thoughts: I love the covers for this series, very detailed and eye catching.