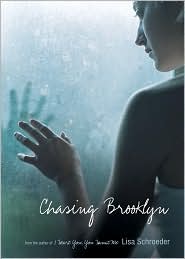 Brooklyn's still getting over the death of her first love. It's been a year but she can't stop thinking about him or writing him letters. She lives in pain, but it's nothing compared to the pain she feels when his best friend dies of an overdose. They made a pact to be there for each other, to help each other through the tough days. She didn't hold up her end of the bargain. Now she sees him in her dreams. He haunts her - chasing her down hallways and forest paths. There are night when she doesn't want to sleep because of the nightmares.
Nico's also having haunting dreams - but it's his brother telling him to help Brooklyn. At first, he barely tries after Brooklyn shuts him out. But his brother's ghosts won't rest and Nico's forced to try harder. Soon Nico and Brooklyn are working out together and slowly becoming friends.
Brooklyn's not reading to share her inner most thoughts with Nico - including the ghost, but she's trying. Can Nico break through Brooklyn's barriers?
My Thoughts:
I really loved this book - it's a beautiful amazingly emotional story. I loved the different points of view and hearing Nico's side and his haunting. I liked how Ava makes a brief, but important appearance.
Similar Read:
Twenty Boy Summer
The Cover:
I really like this cover, I feel a sense of lost (as in the character doesn't know what to feel or what to think) and emotional barriers - staring out the window in the rain. It really fits the food of the book.
Source:
My library - I placed the book on hold as soon as I could (perk of being a librarian)