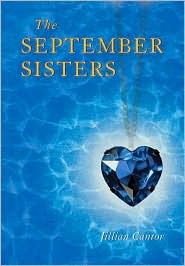 "Sisters, Sisters
There were never such devoted sisters." by
Irving Berlin from the musical White Christmas.


Abigail and Becky are your average sisters - fighting all the time about the little things in life. One morning when it's discovered that Becky's missing; Abby doesn't realize just how much her life has changed - without her sister, her mom falls apart, the neighbors start whispering about their family, and Abby's best friend drops her. She has no friends at school and no one to confide in. Abby desperately wishes for comfort, but her father is trying to track down clues to his daughter's disappearance while her mother shuts down and hides in her room. Abby doesn't know how to help her family get over this trauma. She tries asking questions and pretending she's grown-up enough to hear the truths, but really, she just needs someone to pay attention to her. When her new baby-sitter's grandson moves in, they start to connect. He's getting over his own family drama. With him, Abby can save stories about Becky without judgment. She also confides in Tommy about her family now vs her family before. Can she make sense of life without her sister?


Caution: Read this one with tissues.



As a sister, this book was realistically painful. My sister and I fought constantly for several years before we came BFFs again. I can understand the torment of Abby wondering where her sister is and if she's coming home. Not knowing what's happening is the scariest part of the journey. Time passes, but it doesn't feel real with the other part of you missing. This book is a a very powerful and emotional read. Fans of Lurlene McDaniel and teens looking for a tear-jerker will love this book.



Librarilly Blonde's review
Compulsive Reader's Book Trailer and review and Author Interview

*
Copy courtesy of Sarah Shealy at
Blue Slip Media
.