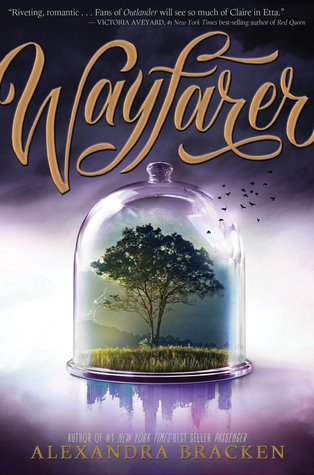 Wayfarer picks up just as Passenger left off, dividing Etta and Nicholas. Etta wakes up alone in a strange house, scared. But she finds answers to questions she never knew she had, especially once she meets Julian - the long lost heir.

Nicholas and Sophia have no knowledge of Etta's whereabouts, but they race through time trying to undercover her timeline. They come to realize if they finds the astrolabe, they can search for Etta, so they widen their search. With the help of a new friend, they fight off all the people trying to kill them, but not without consequences

Will Etta and Nicholas find each other again? Will they solve the problem for the future or will their fight lead to the destruction of everything they know?
My Thoughts:I adore Alex Bracken books, so I was so happy to receive this one! I really enjoyed the ending of this duology. I love that it picked up right where Passengers left off. Alex Bracken knows how to write characters that draw me in. I would read anything with these characters. I love them so. I know they go through terrible moments, but I just needed everything to work out for them in the end...
I love that Etta meets Julian (and has to rely on him). They have great banter between them. I enjoyed her interactions with Henry and how that changed her way of thinking about her previous years. I enjoyed Sophia and how she took control over her destiny. I loved her moments with Li Min. I felt terrible for all the anguish that Nicholas and Etta went through.
I loved the locations this book dragged the readers through, it made me think of all the places I'd love to travel to - provided I could get back home of course.
Love, romance, friendship, loyalty, betrayal, secrets, time travel, family - what's not to love about this book, it has it all!
Cover Thoughts: Gorgeous and matches the first one well.
Source: ARC sent for review
Librarian Recommendations: A must have for libraries with Passengers! Everyone will want to know how this one ends.