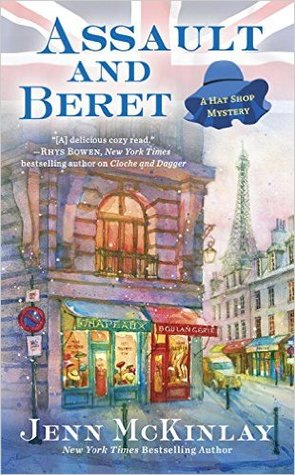 While Vivian teaches a hat making workshop in Paris, Scarlett noses around trying to find her cousins husband. Vivian plans on having her marriage annulled, Scarlett is only too happy to help locate William. When she finds him, she hears his side of the story. Struck by the romance of it all, Scarlett convinces her cousin to have dinner with him.

After the three of them eat, William insists on showing them something work related that Vivian will appreciate. Outside his office, he's kidnapped. Vivian's beside herself. Scarlett vows to uncover the truth about William's kidnapping and the stolen painting.
My Thoughts: I adore this series. I loved the setting. I enjoyed learning more about Vivian and William. I'm glad that Scarlett's friends came by to help, especially Harrison. I loved the romance of this one, especially when Scarlett was able to confront her past. I liked the mystery surrounding this book, especially the art aspect. I'm sad this is the last one of the series, I would have read Many More of these.
Cover Thoughts: Adorable and perfect
Source: My Library
Library Recommendation: This series is perfect for cozy sections of your library - highly recommended!