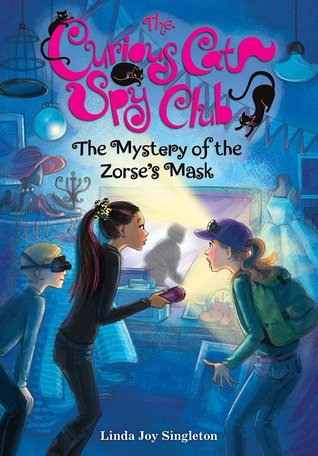 Becca is torn up about giving Zed back to his previous owner. She's not convinced that the owner didn't hurt Zed. Her gut tells her that everything about the man is wrong, but besides Zed's reactions, she's not sure how to prove it.

Luckily for her, the owner wants to recover the fly mask that was on the animal when he arrived at Becca's family animal refugee. Becca enlists the help of Kelsey and Leo to recover the mask. She also wants to prove that Zed belongs with someone kind, not his owner.

When Kelsey takes matters into her own hands, she becomes wrapped up in a very dangerous situation. Could the club have gotten in over their heads this time?
My Thoughts: I really enjoyed the second book of this series - while the mystery is great, it's the other plot lines that hit me hard. Kelsey wants to make a good impression on people - so much so that she's willing to imitate them to become friends. But I love how Becca told her the truth about her sparkle friends. I love how the three friends are different and yet care so much about the same things. My heart broke for Zed. After reading this story, I wanted to give my puppy a huge hug and hold him tight. It was sad and yet hopeful. The danger scenes were intense. I'm eager to see what happens next to this group of friends and animal lovers.
Cover Thoughts: Cute and I love how it ties into the book
Source: My Library
Final Thoughts: A fun tween mystery that blends friendship, a love for animals, and curious minds.