With cooler weather, I'm looking forward to reading these books on the longer nights inside, maybe in front of the fire with some adult hot chocolate and a snuggling dog.
Truthwitch
: Because is sounds amazing.
Night Study
: Always read Maria V. Snyder. It's a rule.
Bookishly Ever After
: When a boy she likes is crushing over her, girl turns to her favorite books for romantic advice
Game On
: Baseball's bad point gets a second chance.
Up to this Pointe
: With her dancing career over, she turns to her heritage for answers

Sword and Verse
: Literacy comes at a price - so does a romance with the prince and a potential rebellion
Zero Day
: After being kidnapped years ago, a daughter returns...to the White House
Drowning Eyes
: Dragon ships come to destroy everything, but one young apprentice could save them
Possibility of Now
: Planning too much for your future leads to an Epic meltdown
The Year We Fell Apart:
Debut novel with the tagline "
In the tradition of Sarah Dessen" Enough said.
Heir and the Spare
: Yes to books about British royalty. Always yes.

Mr. Lemoncello's Library Olympics
: Can't wait to read more about Mr. Lemoncello and his amazing library games.
Confidentially Yours
: A group of friends start an advice column in their school newspaper
Goblin Puzzle
: A boy, a bookish girl, a dragon, and a goblin
To Catch a Cheat
: Yes more Jackson Greene.
Copy Cat Murder
: Guy Fawkes day lights up Scarlett and Viv's lives
Foreign Eclairs
: Say yes to the White House chef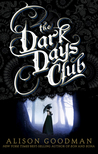 My American Duchess
: This runaway bride is determined to make it to the altar at last - except there's another gentleman who wants her heart.
Dark Days Club:
Regency demon hunter