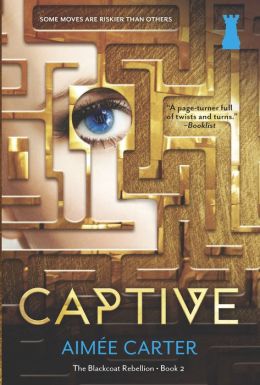 Kitty Doe's been living a lie. Every time she opens her mouth, Kitty finds herself in trouble. It's not easy pretending to be someone else.

After a fight with her fake fiance, Kitty finds herself accused of treason and sent to Elsewhere.

Life in Elsewhere isn't logical and everyone must lookout for themselves. With no one to trust, Kitty must do what she can in order to survive and get her revenge.
My Thoughts: A fantastic follow-up to Pawn left me on the edge of my seat through secrets revealed, plot twists, lies, betrayals, and the truth. This book played with my emotions through the ups and downs of people fighting for their lives all the while death, love, friendship, and loyalty hung in the balance. I can't wait to read what happens next!
Cover Thoughts: Great
Source: My Library
Overall Thought: An excellent sequel that left me breathless for the conclusion of the trilogy