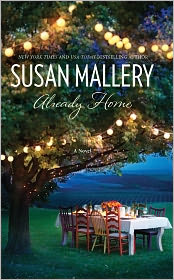 Jenna impulsively buys a store front. She's hoping to make it into a cookery store. It's a change from her chef position, but change it what she needs right now.
Her marriage just fell apart. Jenna's just starting to realize how damaging it was. She no longer has confidence in herself. She no longer has confidence in her cooking. Rarely does she experiment with food due to fear. Maybe this shop will break her out of her rut.
She hires Violet on the spot. Violet has lots of great ideas, but at first Jenna isn't willing to listen to them. When her opening flops, Violet swoops in a suggests they do things differently.
This time Jenna listens. They close the store for a rebooting. They add cooking classes of all kinds. They stock ingredients used in the recipes. Violet becomes the mastermind behind the store and Jenna becomes the teacher and slowly the chef.
Just as the store's reopening gets underway, Jenna's hippy birth mother makes an appearance in her life for the first time. Jenna must deal with meeting a new side to her family, in addition to opening her store, and mending her broken heart.
My Thoughts: There a lot going on this book, but it's an engrossing read. I love the differences between Jenna and Violet and how they're able to overcome their differences to become good friends. The story is predictable, but enjoyable. I loved Jenna's reaction to her birth mother - snarky yet sweet at times. I loved Violet - watching her move forward and become happy. I loved Jenna's real mother and how she struggled with her relationship with Jenna and Jenna's birth mother. I do hope there's a sequel to this book - in Violet's point of view.


Cover Thoughts: Simply beautiful - this drew me in


Source: BEA - signed by the author!