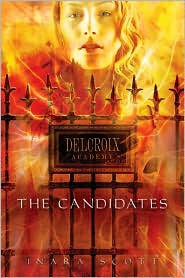 Danica isn't normal, but she's never shared her secret with anyone. She's forced herself to become invisible because she doesn't want to hurt anyone else.
She's forced out of her shell when recruiters from
Delcroix
Academy come to her home (where she lives with her grandmother). They offer her a scholarship to their prestigious school. Danica isn't sure she wants to attend the school, but she agrees to try for her grandmother's sake.
Now, she's thrown into a world where everyone has a talent - everyone except for her and Jack. Jack's a boy she met who isn't sure he wants to be at the school either. He doesn't like the gates that keep the school separated from the rest of the world - and everyone locked inside. They spend their time together studying and hanging out.
Little by little, Danica begins to relax. She lets herself develop a friendship with Jack and with two other girls. One of the recruiters was a student - and he's shown an interest in Danica. She can't help but wonder if he just wants to be friends or something more. Then Jack comes to her with all these theories and there's a theory about Cam.
Is there something going on behind the scenes at
Delcroix
Academy?
My Thoughts: A very interesting start to the new series. I love the tension, the discussion about the gate, and the friendship between Jack and Danica. I loved the secrecy surrounding the school and the supernatural powers of Danica. I didn't love Cam - but probably because I like Jack so much. I can't wait to see where this series will go next.
Cover Thoughts: I like it - I like seeing all the power flying around and Danica behind the gate.
Source: My Library
Fun Fact: Check back tomorrow for an interview with

Inara

Scott