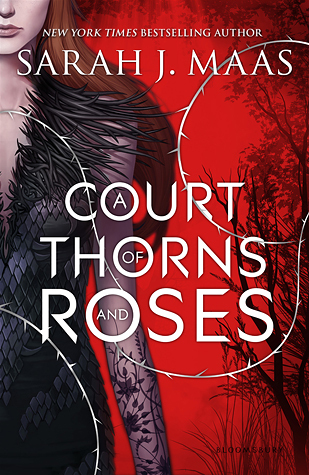 Feyre hunts to keep her family from going hungry. When she kills a wolf in the woods, everything changes. Without knowing it, she's broken a treaty between humans and the faeries. Tamlin comes to her house seeking revenge.

She's held hostage in his house, where she learns more about the treaty and more about the world of the Fae. As her time with the Fae grows on, Feyre begins to feel more comfortable in their world and with Tamlin.

Just as she grows comfortable - Tamlin sends her back to her home. He orders her to stay there. With her heart torn, Feyre takes matters into her own hands - but will her actions mean the death of everyone she holds dear?
My Thoughts: I tried really hard to savor this book and read it slowly - but I just couldn't do it. I LOVED it and needed to see how everything turned out. I'm not sure I can saw how much I loved this book, but I'll try.
Tamlin ran cold and hot with his affections. He reminded me greatly of Mr. Darcy. I loved the slow burn of their relationship - how it changed from enemies to friends to maybe something more.
Lucien made me laugh, made me angry, and made me love him. I hope the next book contains his story.
I liked learning more about the Fae world and their politics.
I loved watching Feyre paint - from the paintings in her home to the room Tamlin sets up for her. Painting is w way for her to express herself, but to also work out problems in her head.
At first, I had mixed feelings about Feyre's sisters. But I came to really enjoy them. I hope they're more present in the upcoming books. I don't like the way they treated Feyra in the beginning, but I like how they grew closer after everything.
I really really really liked Feyre - she was smart, driven, determined, feisty, and sweet at times. She didn't always make the best choices (who does really?). She was brave and loyal to those she loved; she went through hell and back for them.
Cover Thoughts: Love
Source: ARC
More New Adult than YA, I'd still place this in YA at my library.
Release Date: May 5, 2015
Final Thoughts: Emotions, choices, standing on the sidelines or getting in the game, good vs evil, loyalty, friendship, and a fantastic love story - this book has it ALL and more. Add this one to your reading list and move it to the top! You won't be sorry.