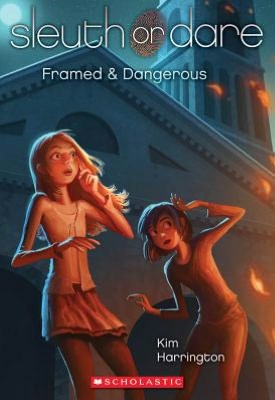 *3rd and final book in the trilogy*
**Tween Tuesday is a weekly meme hosted at
GreenBeanTeenQueen
to highlight great reads for tweens. Join the fun! **
Norah and Darcy's friendship is rocky at best. They're both frustrated with each other after their big fight. Norah walks to school alone for the first time in ages.




She's surprised that no one's hanging around outside, until she learns the field house is on fire. The brand new building was two weeks away from being finished. Now it's destruction leaves a lot of questions.




All the evidence points to Zane, the cute boy Norah's crushing over. When he asks Partners in Crime for help, Norah agrees to help him. She summons up the courage to ask Darcy to come back for one last case, knowing that things between them won't be the same. Can the girls work together to solve their biggest case yet?
My Thoughts: I love this series with smart girls who solve cases. I hated the misunderstandings between Darcy and Norah, but I really liked how they came together to solve this case. I like how the case took on a new meaning with the previous fire and how looking into the past helped them solve the current case. I love the secondary characters and their relationships with both Darcy and Norah. I love the ending, even though I really hope the Norah and Darcy books continue one day. A great tween trilogy featuring smart girls, friendship, mystery, and a little romance.
Cover Thoughts: Cute! And while Kim Harrington was at my library, she dropped some behind the scenes information on the cover - In the previous book Norah got her first pair of glasses, but she has no glasses in this illustration. Kim added in a line about removing the glasses because the smoke was bothering her eyes while she was standing in front of the fire. - pretty cool!
Source: My Library