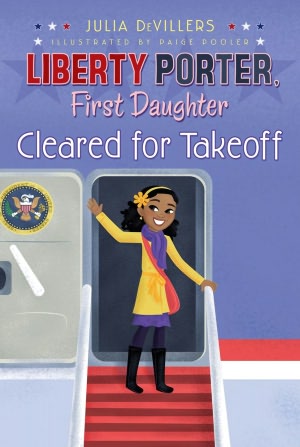 *This is the 3rd book in the Liberty Porter, First Daughter series*
**
Tween Tuesday is a weekly meme hosted at GreenBeanTeenQueen to highlight great reads for tweens. Join the fun! **
Liberty Porter will be getting her first stamp in her passport. She's not sure where's she's going yet as her parents are keeping the location a surprise. Liberty does know that she's required to take a manners class.
Luckily she convinces her whole class to brush up on their manners. Learning manners has never been more fun as Miss Crum has the students demonstrate what NOT to do.
Now that she knows how to behave, she can't wait until they're on the plane. That's when she learns they're going to
Georgia
. Soon she's worried if she's going to make a good impression and how to best represent American kids. What if she makes a huge mistake?
My Thoughts: I really like this series. I find Liberty to be refreshing and full of mischief. I love her antics, like the chocolate pudding competition.
I like the illustrations. I really enjoy James who's a little polite, but can let himself relax around Liberty. I really like SAM, Liberty's Secret Service Agent and the way he interacts with her.
I like learning about Georgia and the country's customs. I also like how it connected with the author's personal life.
Cover Thoughts: Super Cute!
Source: Inter-Library Loan
Fun Fact: I wonder if the Captain Tonya Stone on Air Force One is connected to the author?