I'm still trying to remember everyone I met and everything I saw that looked awesome - it's pretty hard. BEA is my favorite book moments of the year. I look forward to it each yet. I love meeting people who love books as much as I do!
Monday I went to the Book Blogger Con for the first time. It was interesting and I loved meeting so many bloggers!
I got eat breakfast with
Jenny Han
(I really need to her books! I keep hearing awesome things about them and they're perfect for summer.),
Tricia Rayburn
(who has an awesome sounding middle grade novel coming out under
T.R. Burns
and I loved her Maggie Bean books), and
Sonja Manzano
(who plays Maria on Sesame Street and has a YA book coming out with a GREAT cover story.)
I adored
Jennifer Weiner
! As the keynote speaker, she made great points about the lack of respect for women's fiction and those who blog about women's fiction. She was really sweet and very funny.
During Lunch, I got to chat with Julie Kagawa (who is so super nice), Jordan Matter (who's book of photographing dancers looks amazing) and Heather Ross (who makes her own fabrics and has a craft book coming out. She also has a picture book out in the fall).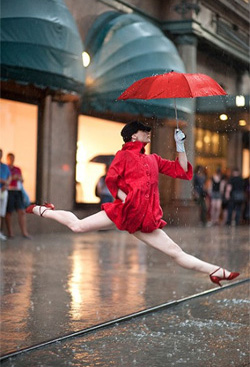 One of the dancers from Jordan Matter
After panels on Blogging Today, Critical Reviews, and Demystifying the Book Blogger & Publisher Relationship where I jotted down notes for future reference, Jenny Lawson from the Bloggess ended the day. She was amusing and very honest.
After the day, I went to a dinner party for Soho Teen, in the cutest restaurant.
We talked about books, authors, and book cover over food. Soho is just starting a teen imprint. Keep your eyes out for great books coming soon!