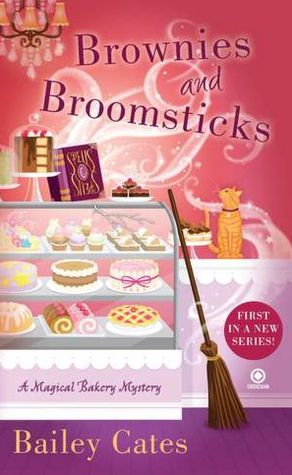 * 1st in a new series *
Katie's excited at the idea of a brand new life. When her aunt and uncle decide to open a bakery, she's more than happy to become their baker. She moves to Savannah and buys a cute house.
She can't wait to help make Honeybee Bakery a huge success. Katie's so eager to make the bakery a success, that she agrees to cater a business meeting days before opening. It's a decision she regrets when her uncle gets into a
disagreement
over the check with
Mavis Templeton.
He storms off and moments later Mavis is found dead - murdered in her car. There's a witness that places a man at the scene, a man who looks an awfully lot like Uncle Ben.
Katie's not about to let her uncle go to jail. She starts snooping in town and learns that Mavis was not well liked and for good reason. Can she clear her Uncle's name while making the bakery a huge success during it's first few days?
My Thoughts: A great start to a new series with magic, baked goodies, and a potential love triangle. Katie's not looking to get involved with man after her last breakup, but she meets two men who have potential. One's a fireman and the other a journalist, who's also a witch.
Katie learns about her family
heritage
, but it takes her a while to come to terms with her witchy side. She digs through her past for understanding. She knows that she needs to talk with her parents about keeping her history a secret, but she decides to deal with one family crisis at a time. I love her familiar, he's cute and amusing.
The bakery sounds fabulous - a place I'd like to frequent. I love how Aunt Lucy adds spells to the baked good to improve the lives of their customers.
I liked learning about the town through Katie's investigation. I really like Katie's neighbor and friend. All in all, Brownies and Broomsticks is a delightful charming new series and I'm excited to read more about the magical bakery.
Cover Thoughts: Adorable. I like the goodies showcased with magic wafting off them. It fits the book perfectly!
Source: My Library.