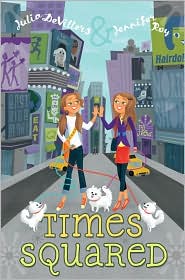 Twins Emma and Payton can't believe their good luck. They're both going to New York City for a school field trip. Emma and her mathletes will be competing in an elite tournament, while Payton and the drama club will be attending an off-Broadway show.
They couldn't be more excited - until they arrive.
All Emma wants to do is study for the math event. The competition is fierce, especially right in her class. Jazmine James isn't going to go down without a fight. Emma is soon forced into joining the drama club and their activities. Can she keep her focus long enough to sweep her competition?
Payton can't believe the star of the off-Broadway show is none other than Ashlynn from summer camp. It's her worse nightmare come true. Now, everyone will know about her Summer Slave days, unless she becomes Ashlynn's stage slave.
Through drama, math, friendship, frenemies, and boy drama, the twins barely have time to enjoy their field trip. With so much going on, could they actually be thinking of switching places yet again?
My Thoughts: The third book in this series is full of fun, humor, drama, sisters, friendship, boys, and being comfortable in your own skin. I love these books, as they're wonderful reads for tweens. I can't wait to see what kind of trouble Emma and Payton will fall into next!
Cover Thoughts:
Source: My library -reviewed also for
www.teensreadtoo.com
where I gave it 5 stars