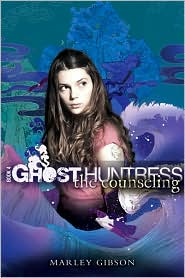 After Kendall's brush with death during her last ghost hunting mission, she's taking a break. She's not sure she wants to continue using her gifts. Kendall just might be done with ghosts.
Her parents send her to a retreat in California for teens just like her. Kendall isn't sure about the retreat, but she's happy to have time to think about herself and what she wants from the future. S
he soon meets other teens who have similar abilities, all in a place where they can talk about their experiences. Kendall feels drawn to one boy in particular.
At first, Patrick seems
snarky
, but there's more to him than meets the eye. Soon, he and Kendall have a connection between them, but he's traumatized from a past experience.
Can he trust her enough to open up to her? Will Kendall find peace with her past and be able to move forward?
My Thoughts: The fourth book in the GHOST HUNTRESS series creates a cast of new characters to enjoy while delving into Kendall's feelings. However, dealing with ghosts doesn't take a back seat. While learning how to focus her energies and move past recent traumas, Kendall still connects with a spirit. While this spirit isn't dangerous, the circumstances surrounding her death are shrouded in mystery. After dealing with a little heartbreak in the last installment, a new love interest appears. THE COUNSELING is a great chapter in this fresh and unique series.
Cover Thoughts: Unique. I love the colors.
Source: My Library - also reviewed for
www.teensreadtoo.com
Up Next: The Discovery due out in May