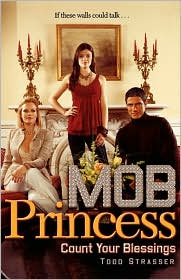 *NOTE* As this is the third book in a trilogy, it will have SPOILERS of the previous two books. Don't read if you're planning to read those books and haven't!
Kate's father is in the big house - leaving Kate to take care of the business. Kate's struggling to run the business. Her uncle wants to take over. A rival family wants to take over. Plus her Dad's most loyal crew want to move to Hollywood to act. Kate is in way over her head.
Plus the drama in her personal life is starting to add up. Teddy's parents don't want him hanging around Kate. In fact, they've forbidden contact. Teddy's not to concerned until they force him to stay away.
Now Kate's not sure who to trust or who to lean on for support. Even things with her BFF have gotten out of control. Can Kate handle all the drama in her life and fix everything so she can move on?
My Thoughts: A good ending to the trilogy (which didn't exactly end, but tied up the loose ends). I enjoyed reading about the Mob and Kate taking control of her life.
The Cover: I think it should be more focused on Kate - since she's the one handling the majority of her issues while the cover makes it seem like her parents are right there helping her.
Source: My Library