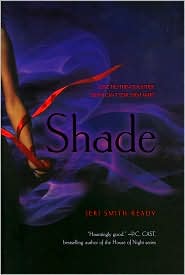 Logan's birthday was supposed to be the day that tied him and Aura together. Instead, it became a day of sorrow; a day Aura would regret forever. While her boyfriend played an amazing gig which could result in a record deal, he didn't live long enough to make it a reality.
It doesn't help that in Aura's world, everyone under the age of 16 sees ghosts. When Logan reappears, it's almost as if he never left, except she can't touch him or feel his touch. Life goes almost back to normal.
Aura deals with her family life, her school life, and those people talking smack about her. She stands through it all. She does meet a new friend, a boy whom she must work together with on a school project. He makes her feel safe again. When he's around, it's almost as if she's normal and not the girlfriend of a ghost.
Zach likes her and doesn't hide his feelings. He has a secret and it involves Aura. When it comes out, will it ruin everything?
My Thoughts: An amazing read! I can't wait to read more and find out what happens next. The idea of seeings ghosts is both creepy and intriguing, which makes for a very interesting and most unusual book. Ghosts, love, heartbreak, and uncovering secrets make this a book not to be missed!

The Cover: Awesome!

Source: My Library