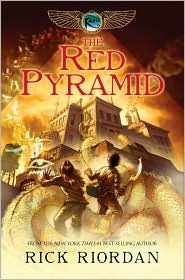 Kane has a strange family life. His mother died in an accident that ripped apart his family. Now he travels around the world with his father, an Egyptian archaeologist, while his sister lives in London with their grandparents. Kane and his father only see Sadie twice a year.
This year, something strange occurs moments into their visit. Their father visits the British Museum. First he makes excuses to the curator and then he instructs his children to stay in another room, no matter what happens. However, they investigate when they hear the noise and witness their father blowing up the Rosetta Stone.
When the stone blows up, he disappears but unleashes five powerful Egyptian Gods. Kane and Sadie discover their unique heritage includes blood of the past pharaohs. Only they have the power to stop the gods from creating chaos all over the world. However, not everyone wants the gods to remain dormant thus Kane and Sadie find peril at every turn. Can they gather the knowledge needed to stop these powerful beings or will the world be doomed?
My Thoughts: I really liked this start to a new series by Rick Riordan. The only part I didn't like was the set-up. I'm not a fan of narrators talking directly to readers and I know this form set the book up like finding a recording, but it did annoy me. I loved the mythology and learning more about Egypt. I loved the visual descriptions of this book; I could see everything pictured in my mind. I'm already looking forward to the next installment.
The Cover: I like it.
Source: My Library
Similar Read: The Alchemyst by Michael Scott for the mythological creatures and magical battle