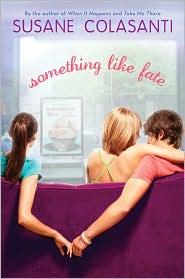 Lani and Erin have a long history. As best friends, they have an amazing history together, but they also have a dark
past that
strengthened
their bond. Lani thinks nothing will ever tear them apart, until she meets Jason – Erin 's
boyfriend.

At first, she gets to know Jason because Erin wants them to be friends. Before long, she discovers the two of them
have an undeniable chemistry. She has no idea if Jason feels the same way, but she's determined to ignore her
feelings.

She tries avoiding him. She tries ignoring her feelings. She tries being just friends. She doesn't want to acknowledge
that she
's fallen
for her best friend's boyfriend, but she can't keep hiding the truth. What kind of friend
does this
?

How can their friendship possibly survive?

My Thoughts: A
n amazing read of two people drawn together by fate, but kept apart by friendship.
I loved watching this story unfold and the intense
bonds of both
friendship and love. Susane Colasanti is a new
author to watch on my personal list. I look forward to reading her next books.

The Cover: Cute, I really like it.

Source: for
review
Fun Fact: You can read Melissa Walker's blog post on the
Cover Story