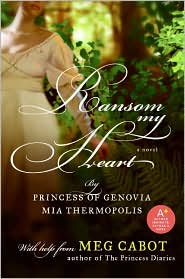 The people in Finnula Finn's town are starving. Luckily, she's can wield a bow and arrow like nobody else. She's been keeping the town's people fed so they don't starve. She likes looking after people and not being a conventional women. When her sister comes to her needing help, she can't refuse. However, she knows nothing about capturing a man and holding him for ransom. When she finds one to her liking, she doesn't realize that she's in way over her head. First of all, he infuriates her. Second of all, she finds herself divulging all her secrets to him - well not all of them. She still doesn't want to talk about what happened on her wedding night. That subject is off limits, but nothing else appears to be off limits including her lips. How did she get herself into this mess and how could it end other than badly?
An adult romance novel written as a senior project by Princess Mia Thermoplis. She uses a pen name in an attempt to become an author without using her title. All the proceeds from this book will go towards Greenpeace.
An addicting and satisfying read. I read this yesterday during my snow day. And loved it. It was the perfect treat for the day.