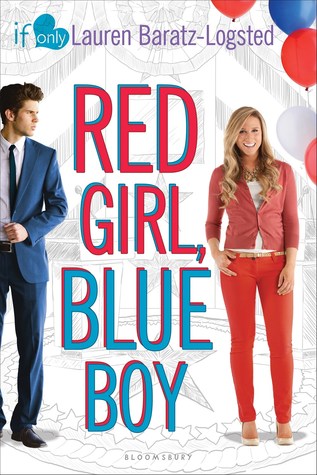 Katie's dreamed of being in the limelight again. Now that her father's running for President, she's about to get her wish.

Unfortunately, it doesn't go well. Her blog causes her father trouble. Then she called out the son of her father's opponent on . TV after he declines to show up for their interview together.

Now Drew wants revenge. They agree to go back on the show the next day. When Katie's ambushed on the show, Drew jumps in to protect her. Afterwards, Katie and Drew play hooky from school.

Underneath the snark and banter, they find a connection. As they spend more time together, the more that connection grows. Can they become something more than friends with their parent's competing against each other?
My Thoughts: I loved this book (and this series). I really liked the political aspect of the book and the family drama. I felt bad as both teens had their lives changed by their parents. They had to act perfectly, especially in public - which also led to social media outlets.
I really liked Katie - she was sheltered, bossy, and a know-it-all. I loved watching her experience things and break out of her shell. She bought new clothes to hang out in, but wanted to pretend they weren't new. She learned about life from movies. I loved the moments where Drew and Katie hung out while he worked on his car. Plus the time they spent working on their costumes for the dance was fantastic.
Cover Thoughts: Cute
Source: ARC sent for Review
Release Date: October 20th
If You Like:
Final Thoughts: A charming romance with a political spin with great banter. Make sure you grab this one come October.