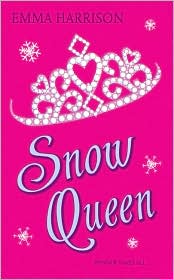 Aubrey's been jealous of her best friend's winter breaks to Vermont. This year, she can't believe that she's going too. Only she gets there to find there's no snow. What's a girl to do? Instead of playing in the snow, she's helping out at inn the run by Christie's grandparents and meeting cute boys at the ice skating rink. But before she knows it, Christie talks her into competing in the town's Snow Princess Pageant. At first, Aubrey agrees because it's Christie's wish to become the Snow Queen and she needs back up. Soon, she gets a look at the competition and decides that she needs to beat the snarky mean girl Layla at her own game. Too bad Layla is her new boyfriend sister and he doesn't see past her innocent act. Will Aubrey's competitive side push away all the people she cares about?
A new winter romance tale that's super cute. I love the previous books my this author. The snark between the two girls adds cringe worthy moments and laughter to the friendship tale.
I think the cover's fun, but I wouldn't have minded seeing Vermont in the back ground either.